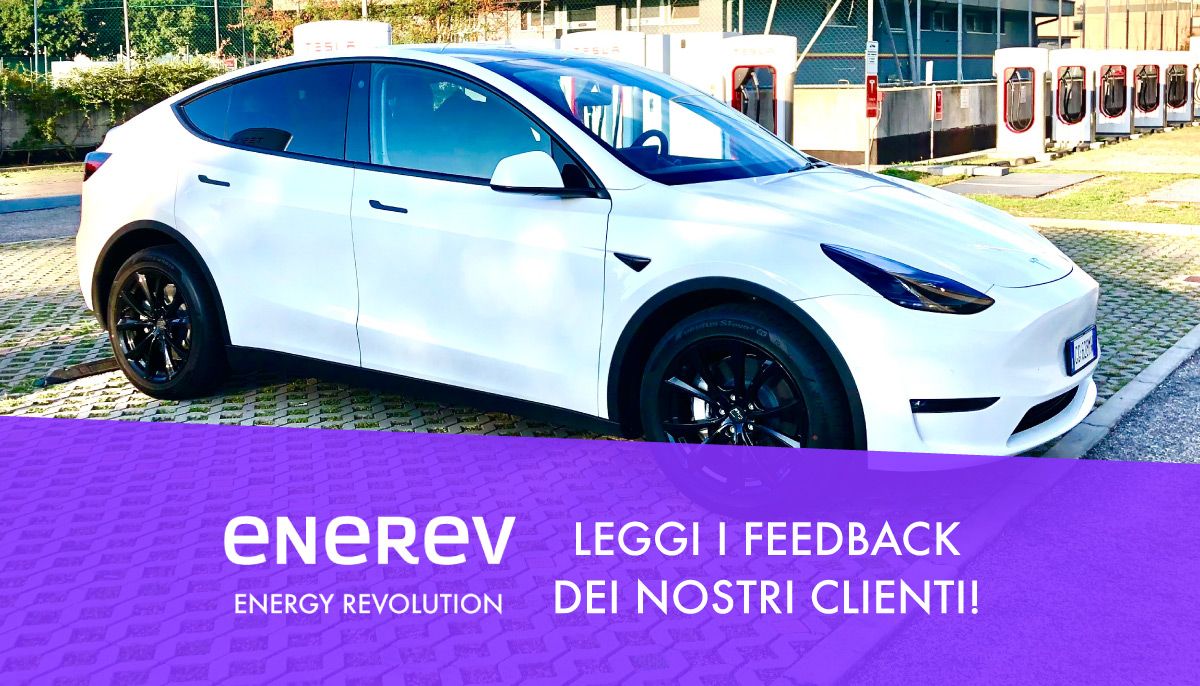 What they say about us
What do our customers say?
Believing us means nothing.
Believing them is wisdom.
I've had a Prism Solar Trifase charger for a month. I charge my Tesla Model 3 with practically 100% solar energy! A wonderful product! Thank you Federico Lagni for the excellent advice and supply by Enerev! The Silla support is top, they reply immediately and are super-prepared! Recommended!
Matteo Sgalaberni – MODENA -
Congratulations to Enerev for their swift and immediate communication while I was purchasing a Prism Solar Trifase charger. For now, I am using "only" the charge balancing on the single-phase domestic system so as to exploit the 6.6 kW of the meter without worrying about not switching anything on in the house: it's highly reactive. For the remaining functions, I'm about to move to a new house where I'll have photovoltaic cells and accumulators to exploit the wallbox 100%. My Tesla Model 3 will be very happy!
A fantastic car!!! It was a special weekend, a dream come true. Heartfelt thanks to Federico Lagni and to Matteo for their kindness and helpfulness!!!
Alessandro Pasinelli – BERGAMO -
I rented a Tesla Model 3 Performance, their Black Tornado, for a weekend. An experience that introduced me to electric mobility, something that really has sense when you drive a Tesla. Enerev is a company consisting of professionals who can give you the best advice and provide a first class service. Highly recommended!
Andrea Cattaneo – MILAN -
A dream come true, one of my desires became reality for my birthday: Tesla Model 3 Performance for a week. Myself at the wheel of a Tesla was something I'd always seen as something beyond my reach. They made it possible! A special experience I'll take with me, an excellent service offered by Federico Lagni and Matteo Cislaghi. Professionalism, passion and helpfulness are the principal features I found in Enerev.
Andrea Marchitelli – MILAN -
Many, many thanks for the incredible experience of trying your magnificent Tesla Model 3 Long Range. A truly incredible experience, a taste of the future that awaits us!
Daniel Rau Marsanich – MODENA -
An excellent experience! Very polite and professional! It was very useful to try the car (Tesla Model 3 Performance) to get a clear idea of how an electric car works and whether it's the right thing for us.

Gualtiero Bellia – Milan -
An excellent experience: polite, attentive and professional. Thank you Federico for your passion and enthusiasm and for giving me the opportunity to try the Tesla Model 3 Long Range for a few days. Spectacular. The only difficult thing was to hand it back at the end of the rental because once you've tried it, it's got you. I recommend Enerev not only for its impeccable service and great seriousness but also for the care it takes over the vehicle. Well done.
Simone Dal Cengio – VICENZA -
I recently rented the new Tesla Model Y for a few days as I was curious about the world of Tesla and electric mobility. It was a pleasant discovery indeed, thanks not least to Enerev and the helpfulness and courtesy of Federico and Andrea.
Fabrizio Possis – VARESE -
It has been our pleasure to be the very first customers to whom Enerev entrusted the brand new Tesla Model Y for our wedding on September 17. The machine is a showcase and Federico and Gianluca were super helpful and professional. We couldn't ask for more. Well done!
Have you seen?
An enormous amount of enthusiastic and satisfied feedback. Now it's your turn! Book a Tesla for a few days: a new world will be at your feet!
Subscribe to our newsletter
Keep up to date with Enerev news!